Most of us associate Napa with luxury and wine. But at its heart, this is a beautiful and natural region, that even those minding their budget can enjoy. We just want everyone to have a good time!
First things first: Where will you be sleeping?
Most Napa Valley hotels start at around $250 per night. Our rooms at El Bonita start at $139.99. We're just being honest: the Napa area attracts a lot of tourists who want luxury. But maybe you just love wine, or want to take in the beauty of the region, or want to take a cozy cultured weekend trip. And we're here in St. Helena to make that possible.
Plan where to eat according to your budget.
Vacations almost always involve "indulging" and many restaurant meals. When you're tight on time and unfamiliar with the area, you might just walk into the first place you see. This is never a good idea! (Unless it's an ice cream shop with a line out the door. Then you know it's good.)
Deciding in advance on more restaurants than you'll need to get to will give you options. Choose unique spots with dishes you can't find at home. We have plenty of recommendations for just that.
Bike around, where you can.
It's fun, we promise. This should feel good before or after that heavy meal. And we'll lend you the bike, no charge.
Alternatively, grab a Lyft. You don't need to rent a car here.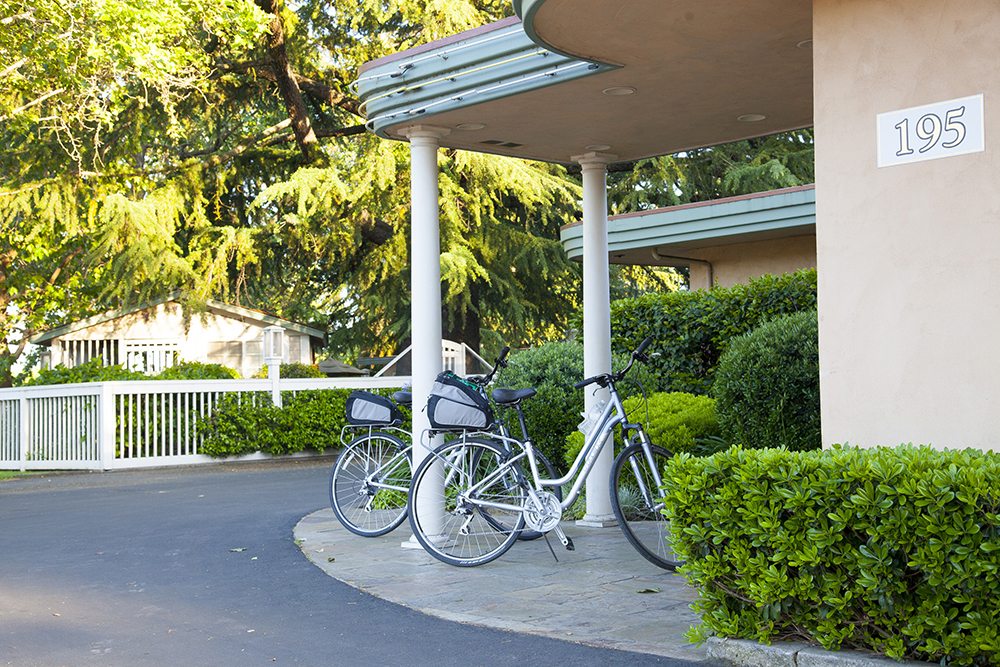 Hit the tasting rooms!
They're less expensive than you'd think, and you get to sample so many more wines than you would at an expensive dinner out.
Remember that the big-ticket items aren't going anywhere.
If you wish you could partake in some of the relatively extravagant tourist attractions while in Napa, just know that you're not alone. The world-class restaurants and wine train of the Valley aren't going anywhere. Neither are the spas and the Michelin-starred chefs teaching cooking classes at the CIA Copia. There are plenty of activities to get to, and you've got plenty of time — now or later.
The beautiful wine country provides plenty of good experiences on its own. Check out these hiking trails or any of the public parks and beaches.
So, will we see you soon?
What do you like to do in St. Helena and Napa? Budget friendly and otherwise?