The American era of Prohibition followed the success of the Temperance movement, and we've all seen and heard the stories of bootleggers, bathtub gin, and moonshine. But what about the wine? What about those Napa Valley Prohibition days?
George C. Yount, Charles Krug, and John Patchett are considered the fathers of the California wine industry. Yount is generally attributed with being the first person to grow grapes in the state.
Patchett began selling his wines commercially in 1858, establishing his winery in 1859. They sold for $2 per bottle. (As a side note: is Trader Joe's onto something here?)
Before 1900, more than 140 different wineries had opened in the Napa Valley area.
In January of 1920, Prohibition went into effect. This would last for thirteen years. Some growers tore out their grapes and replaced them with apple orchards. While this caused many wineries to shut down, the seemingly devastating set of laws did not hurt the wine industry overall. In fact, many estates thrived regardless, although a lot of business might have been just shy of legal.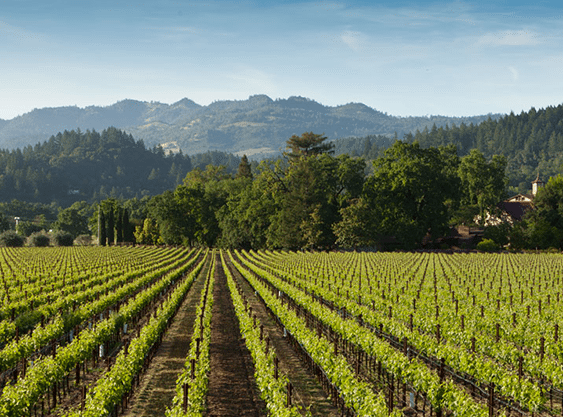 Simply put: while alcohol was illegal, the grapes weren't.
Just as wheat, corn, potatoes, and other fermentable crops remained important and marketable, so remained grapes.
Vineyards packaged dried versions of their crops, sometimes called "raisin cakes." Others sold their product as grape juice. Home fermentation was not difficult, and all too common, just like other alcohols and spirits. Winemaking could require as few as three weeks to get the alcohol brewing. Bootleggers would profit from this process, marking up wines to sell under the table.
Furthermore, "sacramental" use of wine was still allowed. Churches and synagogues became the primary buyers of (legal) wines, working out deals with the growers and the government.
Napa Valley Prohibition could have been worse. But creativity and spirit saved the industry.
Maybe the winemakers knew that Prohibition couldn't last forever, but we do owe them credit for their creativity and passion (and some extralegal finesse).
Learn more here.
What is your favorite winery in Napa Valley? What is your favorite winery in St. Helena?