An "AVA" is an American Viticultural Area. The U.S. government defines these regions by their vineyards and geography. The Napa Valley AVA was officially established in 1981, though it has been a major and productive part of the wine industry since the 1850s. This was the first AVA designated in the state of California.
For our last Wine 101, we discussed varietals in Napa Valley. This week, we're delving into both the past and present. Here are the essential facts about the Napa Valley AVA.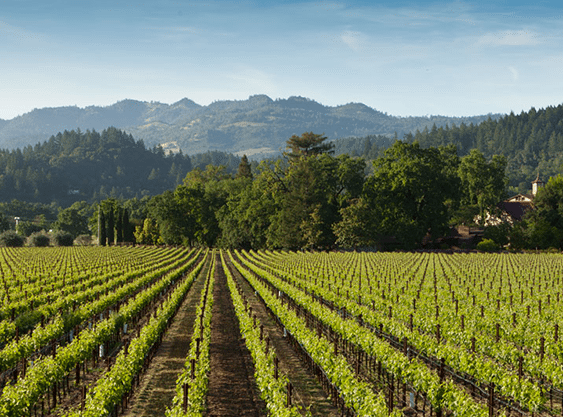 The Napa Valley AVA comprises 16 official sub-regions, such as the St. Helena AVA.
AVAs range significantly in size and scope. The Upper Mississippi River Valley AVA remains the largest, at 29,900 square miles, covering Illinois, Iowa, Minnesota, and Wisconsin. The Cole Ranch AVA in Mendocino County is the smallest, at just sixty acres. St. Helena's is approximately 9,000 acres.
Of all the Napa wineries, about 95% are family-owned and -operated.
Many historic vineyards and estates still bear the names of their founders or founding families, like St. Helena's Charles Krug, Beringer, Foley Johnson, and Louis M. Martini wineries.
The industry provides almost 50,000 jobs within the area, and more than 300,000 nationally.
From the farmers to the pickers and from the salesmen to the connoisseurs: this is one very ripe business.
Napa holds the most Cabernet Sauvignon acreage in California.
Our AVA covers just under a quarter of total California vineyards dedicated to Cabernet Sauvignon.
Napa holds the most Sauvignon Blanc acreage in California.
The Napa Valley wine region covers almost 20% of the state's fifteen-thousand-odd acres.
More than 90% of American wine comes from California at large.
These are just the basics. And color us impressed! So get out there and find some of our St. Helena wineries, estates, and tasting rooms — check out our recommendations here. Many of the winery and vineyard properties also feature their own cafes or work with incredible local restaurants.
Soon, we'll talk more about St. Helena as its own AVA. When will we be seeing you in Napa? Let's stay in touch!